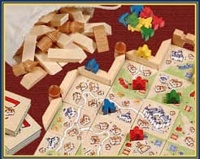 Rio Grande has recently updated its shipping schedule. The two new Carcassonne products will be ready for shipment Thanksgiving week, according to the update. Carcassonne: the Count is a small expansion with 12 tiles, retailing for only $5.00. Carcassonne: the City allows players to build a 3-D city. It comes packaged in a wooden box for $44.95. Both of the Carcassonne games are designed by Klaus-Jurgen Wrede.
Other products also planned for shipment next week are Heart of Africa (by Andreas Steding, $44.95), Sole Mio (Uwe Rosenberg, $11.95), Mall World (Andrea Meyer, $32.95), Halli Galli Christmas Edition (Haim Shafir, $17.50), and Naval Battles (Dan Verssen, $24.95).
Coming up in December are Niagara (Thomas Liesching, $44.95) and Caribbean (Michail Antonow, $27.95).
And in January, Rio Grande plans the release of Around the World in 80 Days, based on the Jules Verne novel, by Michale Rieneck at $37.95.