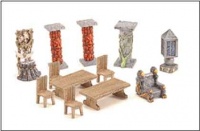 WizKids has announced that two sets of accessories will be among its releases for February 2002. As usual, all of these accessories will be pre-painted miniatures in the Mage Knight scale. Both sets will come with rules for each accessory. While they're designed for use with the new Mage Knight Dungeons game (see 'Mage Knight Dungeons Debuts in January'), they're fully compatible with other Mage Knight figures. Both sets will be packaged in a clear blister pack that displays all of the pieces.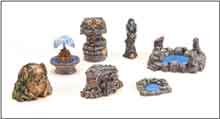 Mage Knight Dungeons Artifacts Set 1 will include twelve painted plastic figures, including two tables, four chairs, a clock trap, three columns, a throne, and a rune stone. Mage Knight Dungeons Artifacts Set 2 will include seven painted plastic figures, including a fountain, an altar, a healing goddess, large and small pools, an idol, and a statue.
In addition to the two artifacts sets, WizKids will also be releasing a single figure -- the Mage Knight Knights Immortal Charger (a horse and chariot) in February.