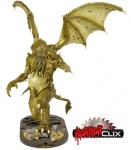 The first release in all new WizKids' launches will be fully returnable for hobby retailers after twelve weeks. This new policy only applies to new product initiatives from WizKids, which will include the Battlestar Galactica Collectible Card Game shipping in May, the HorrorClix Collectible Miniatures Game shipping in late summer and the ToonClix CMG, which debuts in October. As ICv2 explained back in February (see 'WizKids to Eliminate Wave Shipping'), retailers will be able to return first release product from WizKids' launches down to the booster pack level as long as the product is in sellable condition and the retailer has kept it for 12 weeks. WizKids is hoping that retailers will take advantage of this offer and order enough of the first product in a new WizKids product line to satisfy the demand and keep the game in stock for a 3-month period.
WizKids is offering an additional incentive for hobby retailers ordering the HorrorClix CMG.

Retailers who pre-order two cases of Boosters and at least a half case of Starter Sets will receive a free Galactus-size Cthulhu mega-miniature figure.