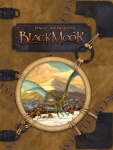 Zeitgeist Games Inc. has announced that it will take over the publication and distribution of Dave Arneson's Blackmoor line of RPG products effective immediately. Goodman Games was the previous publisher of Arneson's Blackmoor RPG, which has won numerous awards including the annual GameWyrd Game Award as 'The RPG or Supplement Most likely to Improve Your Campaign.'
Dave Arneson, one of the key figures in the development of role-playing games, was a co-creator of Dungeons & Dragons. Arneson and Dustin Clingman founded Zeitgeist Games in 2002 with the goal of producing hybrid interactive entertainment delivering quality electronic and classical adventure games. Although Zeitgeist has released a line of miniatures, the Blackmoor releases are Zeitgeist's first paper RPG products.
Zeitgeist plans on releasing a soft cover version of the core Blackmoor Campaign Setting ($34.99), which will be followed by the Dungeons of Castle Blackmoor, an adventure-filled tour through all twenty levels of the dungeon that started the roleplaying genre. In the fall Zeitgeist plans to release The Player's Guide to Blackmoor, and The Temple of the Frog. Zeitgeist also plans to support the growing player base in the Blackmoor: The MMRPG organized play campaign.