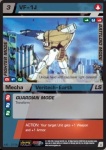 Hero Factory Inc. has announced the June 30th release of its Robotech Collectible Card Game (see 'Hero Factory Preps Robotech CCG'). The Robotech CCG will feature screen stills and other artwork from the classic Robotech anime series provided by license holder Harmony Gold.
The first Robotech CCG release will consist of two SKUs, a Robotech CCG Starter Deck Box Set (MSRP $9.99) and a Robotech CCG Deck Box (MSRP $2.49). The first wave will consist of starter decks and theme decks with booster packs planned for a later release. The first series in the Robotech CCG will consist of 216 cards.
Erick Reyes and James Takenaka developed and designed the new Robotech game and Lemar Banta designed the cards and packaging, while Robert Miller was the lead game tester. Organized play support will begin in mid-to-late July and retailers can get free beta decks for demonstration purposes simply by requesting them from Hero Factory.
Hero Factory has created a dedicated Website for the new game and will showcase the new game at Anime Expo in Anaheim, California and at various other anime conventions.