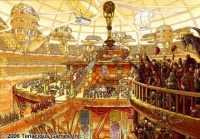 Tenacious Games, a new Seattle company founded by tournament Magic players and former members of the Magi Nation team of Interactive Imagination, will distribute over two million free cards and award $60,000 in tournament prizes before it ships its first product, The Spoils, in November.
The company is calling The Spoils the first game in a new category, Tournament Card Games, but it looks a lot like a CCG in its packaging and play. The tournament aspects are emphasized because the founders believe that the pro tour for Magic: The Gathering was 'a large part of [Wizards'] success' with the game.
The Spoils is a core product targeted at 15 to 30 year olds. The imagery includes some heavy violence, but no nudity (some early images were removed during testing). The creators call the game a 'gothic comedy;' the setting is a vaguely Victorian alternate universe where elves appear as punk teenagers, and an edgy humor suffuses the game.
To reinforce the positioning toward older teens and adults, no characters will appear on the packaging, and card backs will look like 'poker decks on steroids.'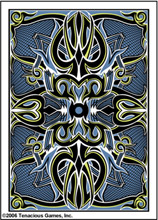 The early card giveaway and tournament program is The Spoils Open Beta, which will run from August to October. Tenacious hopes that tournament organizer and retailer support will enable it to run at least 1000 free tournament events from at least 500 stores.
Spoils Open Beta Kits, 'an eight-player tournament in a box,' will be provided free to retailers who agree to hold events. Each will contain:
48 The Spoils Open Beta Booster Packs

1

Brick of Resource cards

2

Foil promo cards, one for the winner, and one for the retailer
Tenacious is currently arranging distribution for the Open Beta Kits.
Once the initial distribution of kits has taken place, retailers that send in a registration sheet for an event that was held will be able to restock for additional events.
The $60,000 in cash tournament prizes for the Open Beta program will be used in two tranches. $15,000 will be allocated for 30-60 qualifier events, with prizes from $250 to $500, to be run primarily in stores by tournament organizers; and $45,000 will be allocated for 12 to 15 larger events with prizes of $2,500, $5,000, or $10,000, held at stores, in hotel space, and at conventions. The Open Beta tournament program will culminate in October, just before the first Spoils release.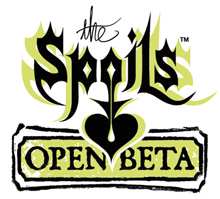 The Spoils release set, due out in November, will be a 300-card set including 190 of the cards from the Open Beta period (most of them) and 110 new cards. Two SKUs will be offered, Booster Packs, and 70 card Tournament Packs.
In addition to a number of designers, Tenacious gets something else from Interactive Imagination--a business model that builds a CCG audience that can form the base for a future videogame audience. Interactive produced not only the Magi Nation CCG, but also a moderately successful Game Boy game. Tenacious is developing a Spoils videogame that will follow the CCG launch.
Among the investors in Tenacious Games is Gen Con's Peter Adkison, who's also involved in Hidden City Games, which produces Clout (see 'Hidden City Has Marvel License').