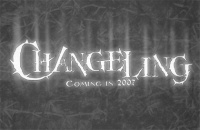 White Wolf announced Changeling at Gen Con as the fifth World of Darkness game, scheduled for release at GenCon 2007. It was developed by Ethan Skemp, and White Wolf promises 'a complex setting where your character faces new challenges and dangers not seen before in the World of Darkness.
Changeling, like Vampire, Werewolf and The Mage is a re-tooling for the new World of Darkness line, rather than a new offering like Promethean.
White Wolf also announced the release of Scion, a three-volume limited roleplaying game series that will launch next spring. Scion is being developed under the direction of John Chambers, whose Exalted 2nd Edition has been burning up the charts since its release earlier this year.
The new RPG is planned as a three volume, closed end project. The genre is heroic fantasy; the Scion is the child of a god who battles the Titans on behalf of his parents.
The three releases are tentatively planned for three major game shows in 2007: GAMA Trade Show, Origins, and GenCon.