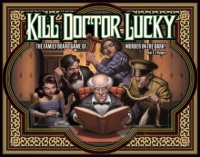 New company Titanic Games (see 'Four Game Industry Vets Launch Titanic') has scheduled its first two board game releases. Its first game, Kill Doctor Lucky, will be released in October ($34.95 MSRP).
Titanic's Kill Doctor Lucky is a full-color version of Cheapass Games' award-winning board game of the same name. A few rules have been added, but players have the same goal--to see which player can kill the old doctor first.
High-quality Euro-style components are included. Thirty spite tokens 'help move the game along a little better,' according to Titanic brand manager Mike Selinker. Eight pawns 'as big as your thumb' and 96 cards, in addition to the color board and rules sheet, complete the components.
Retailers that preorder through their distributors will receive a limited edition metal miniature of Dr. Lucky to replace the black pawn that comes with the game.
Titanic had two four-person tables for players to learn Kill Dr. Lucky at GenCon, and 'those tables were never empty' over the four-day course of the show, Selinker told us.
Titanic's second offering, Stonehenge, is scheduled to ship in February. Stonehenge is an 'anthology board game' developed by a team of notable designers (Richard Garfield, Bruno Faidutti, James Ernest, Mike Selinker, and Richard Borg), each of whom has generated rules that use the same pieces. The price point will fall in the $30 to $50 range.
The company is currently in discussions with other designers for potential additions to Stonehenge. 'This is a product line that we hope will have multiple iterations,' Selinker said. Among the possibilities being considered are new rule sets that use the same pieces as the first five; those new rules could be delivered in a variety of ways yet to be determined. Other options are expansions for Stonehenge that would include new pieces in addition to new rules. And a third option is a totally different anthology board game that uses the same design principle (a common set of pieces with multiple rules).