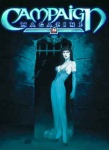 Fast Forward Entertainment, which recently added industry veterans Jim Ward (full time) and John Danovich (see 'Danovich Moves to Fast Forward'), has acquired the d20 magazine Campaign (see 'd20 Magazine Update'). Jonathan Leitheusser created Campaign for his company, Corsair, but decided to give up editing the magazine when he took the post of Advertising and Public Relations Manager for WizKids (see 'Jonathan Leitheusser Joins WizKids'). Now Fast Forward will publish Campaign starting with issue #2, which will appear in February. Fast Forward has announced that Campaign will be sold under the same terms, conditions of sale, and discount as the rest of the Fast Forward line.
Fast Forward is quickly developing a substantial line of d20 products including the well-received Encyclopedia of Demons and Devils, and the forthcoming Swords of Power, and Wondrous Items of Power.

By publishing hardcover sourcebooks for d20 campaigns Fast Forward is exploiting the experience and expertise of Ward and other TSR veteran writers and artists to produce some of the most interesting new d20 items.

Publishing Campaign will give Fast Forward the opportunity to showcase and explain the company's fast growing lineup of d20 products.