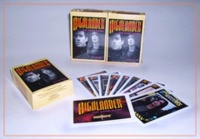 Le Montagnard has announced it will release the Highlander Trading Card Game 2nd Edition that will employ updated rules, a new league program, new prize cards and new quickening cards. A Beta Set will be available directly from the publisher beginning December 15th, with regular card sets to be sold through distributors and hobby stores beginning in March.
Most cards from the original Highlander TCG will be compatible with the 2nd Edition set, but Le Montagnard plans to concentrate tournament and prize support on the new edition cards.
Le Montagnard's President Mike Sager designed the game system used by Highlander and was also at the helm of the now defunct Thunder Castle Games, publisher of the first Highlander TCG.
Highlander TCG has maintained a small but loyal following during its almost 10-year hiatus.