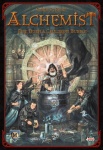 Mayfair announced the release of two new board games for spring including Alchemist, a co-production with Amigo Spiel due out in March and The Pillars of the Earth, due out in April.
In Alchemist, designed by Carlo A. Rossi, Adepts compete by devising new potions. The game includes 160 ingredient cubes, one game board, 30 seal stones, five player screens, five scoring chips, five school ingredient cards, 10 potion value tiles and 1 oracle bag. Alchemist is for 3-5 players ages 10 and up, plays in 90-120 minutes and lists for $35.00.
Based on Ken Follett's best-selling novel, The Pillars of the Earth is set in England at the beginning of the 12th Century. Players compete by managing resources and unexpected hurdles to build Kingsbridge Cathedral. The game includes one game board, one cathedral (6-piece), 12 master builder figures, 75 cards, 35 worker figures, 82 building material cubes, nine indicator pieces, one die, one bag, and game rules. Pillars was designed by Michael Rieneck and Stefan Stadler for 2-4 players ages twelve and up, plays in 90-120 minutes and lists for $49.00.