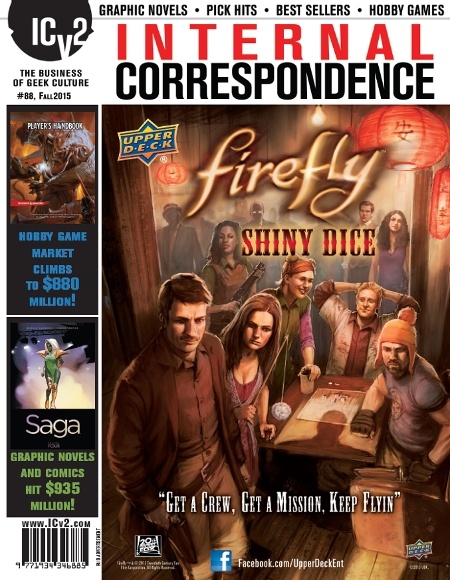 ICv2 has released the results of its study on the size of the hobby game market in 2014, including the finding that that the market in the U.S. and Canada totaled around $880 million at retail, as reported in the recently released
Internal Correspondence
#88.
In order to arrive at the estimate for the total industry, we compiled estimates on five individual categories: collectible games, miniatures, board games, card and dice games, and roleplaying games. We found that the collectible games category was by far the largest, at $550 million; miniatures and hobby board games were tied for second, at $125 million each; hobby card and dice games were fourth at $55 million; and RPGs last at $25 million.
Based on information collected during our work on 2014, we revised our estimates upward on two categories and on the overall size of the hobby games market for 2013 (see "
Hobby Games Market Hits $700 Million
"): we now believe hobby board games were around $100 million in 2013, hobby card and dice games were $45 million, and the total hobby games market was around $735 million.
Regardless, even with the higher estimates for 2013, the growth rate was a robust 20%, with RPGs growing the fastest, at a 67% rate; and miniatures the lowest growth category, with flat sales in 2014 compared to 2013.
We define "hobby games" as those games produced for a "gamer" market, generally (although not always) sold primarily in the hobby channel of game and card specialty stores. We define the "hobby games market" as the market for those games regardless of whether they're sold in the hobby channel or other channels.
We also report on the Spring season in the hobby game market, and found that sales continued to be strong across categories. Collectible games were particularly strong as n extra
Magic: The Gathering
release from Wizards of the Coast, more
Dice Masters
from WizKids, and the launch of
Force of Will
joined strong sales from
Pokemon, Legends of the Five Rings
, and Bushiroad's
Cardfight!! Vanguard, Weiss Schwartz
, and
Future Card Buddyfight
.
Star Wars
is making an impact in four categories
,
with games based on the powerhouse property in the top five in three of them.
ICv2 published its hobby game bestseller charts in the new issue, covering all five categories.
For the lists of the bestselling Collectible Games in the hobby channel, in the mass channel, and over-all,
click here
.
For the bestselling Board Games in the hobby channel,
click here
.
For the bestselling Card/Dice Games in the hobby channel,
click here
.
For the bestselling RPGs,
click here
.
For the bestselling Non-Ccollectible Miniature Games,
click here
.
For information on how to get your copy of
Internal Correspondence
#88, see "
ICv2 Releases 'Internal Correspondence' #88
."