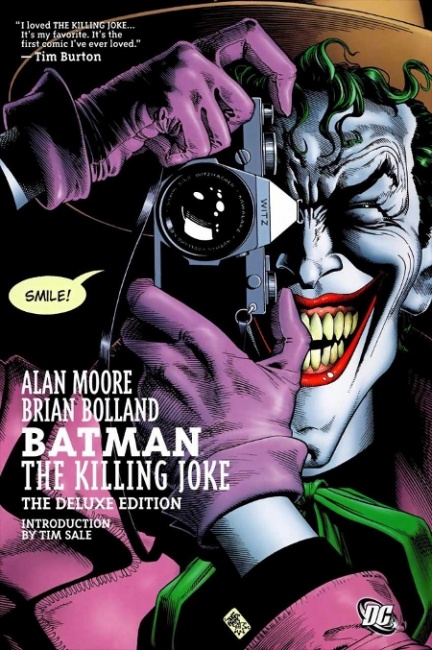 Exciting new graphic novels are driving sales in the book channel, the publisher dynamics are changing, and TV brought a long-running series back into the public eye in June, according to the Top 20 Adult Fiction Graphic Novel chart provided exclusively to ICv2 by Nielsen BookScan.
An eclectic group of four new titles hit the chart in June, from four different publishers. Dark Horse Comics led the pack with Chuck Palahniuk's
Fight Club 2 HC
, the collection of the hit comic. It debuted at #4, a very strong showing.
Indeh: A Story of the Apache Wars
, written by actor/writer Ethan Hawke with art by Greg Ruth, also had a strong debut, hitting the chart at #7. We don't see a lot of graphic novel titles from Grand Central Publishing; the last time was back in the mid-00s (see "
'Shooting War' Graphic Novel
").
Dark Knight: A True Batman Story HC
, the amazing true story by Paul Dini and Eduardo Risso in which Dini tells the story of his brutal beating and recovery, launched at #11.
And the first volume of Dynamite's new graphic novel series by fantasy and science fiction author Brandon Sanderson (see "
Preview: 'Brandon Sanderson's White Sand' Vol. 1 HC
") debuted at #18. This is the first of three planned volumes (see "
Dynamite to Publish a Trio of Graphic Novels by Brandon Sanderson
").
Another new-ish title that's climbing the list is
The White Donkey: Terminal Lance
, by Iraq war veteran Maximilian Uriarte (see "
Iraq Veteran's Tale Makes Chart
"). In its third month on the chart it's climbed to #6, up from #11 in its second month, and #17 in its first. This is looking like a title that could be hanging around for a while.
DC (under both the DC and Vertigo imprints) had six titles in the Top 20, the company's best showing in recent memory. As we predicted last month (see "
28 Years Later, 'The Killing Joke' is #1
"),
The Killing Joke
seems poised to hold the #1 slot until August (or later); this month is the second month that the 28-year-old title has been the top graphic novel in bookstores.
Two
Preacher
volumes made the list this month, up from one in May, behind the increased attention the property is getting via the AMC series.
And the company's collection of stories featuring Batman and Superman is still selling, its fifth month in the Top 20.
Batman v Superman
may not have had legs at the box office, but the graphic novel has them in bookstores.
DC's strong showing appears to have come mostly at Image Comics' expense; the graphic novel powerhouse had only one title in the Top 20 this month. VIZ Media tied DC at six titles in the Top 20, Marvel had two, and six companies had one.
BookScan Top 20 Graphic Novels in June 2016

Rank

Title

Author

Publisher

1

BATMAN: THE KILLING JOKE DLX ED

ALAN MOORE

DC COMICS

2

TOKYO GHOUL VOL. 7

SUI ISHIDA

VIZ MEDIA

3

PREACHER BOOK ONE

GARTH ENNIS

VERTIGO

4

FIGHT CLUB 2 HC

CHUCK PALAHNIUK

DARK HORSE COMICS

5

TOKYO GHOUL VOL. 1

SUI ISHIDA

VIZ MEDIA

6

THE WHITE DONKEY: TERMINAL LANCE HC

MAXIMILIAN URIARTE

LITTLE BROWN

7

INDEH: A STORY OF THE APACHE WARS HC

ETHAN HAWKE

GRAND CENTRAL PUBLISHING

8

PREACHER BOOK TWO

GARTH ENNIS

VERTIGO

9

TOKYO GHOUL VOL. 6

SUI ISHIDA

VIZ MEDIA

10

WATCHMEN

ALAN MOORE

DC COMICS

11

DARK NIGHT: A TRUE BATMAN STORY HC

PAUL DINI

DC COMICS

12

ONE-PUNCH MAN VOL. 1

ONE

VIZ MEDIA

13

CIVIL WAR

MARK MILLAR

MARVEL COMICS

14

THE WALKING DEAD VOL. 25

ROBERT KIRKMAN

IMAGE COMICS

15

TOKYO GHOUL VOL. 2

SUI ISHIDA

VIZ MEDIA

16

BATMAN VS. SUPERMAN: THE GREATEST BATTLES

VARIOUS

DC COMICS

17

BRANDON SANDERSON'S WHITE SAND VOL. 1 HC

RIK HOSKIN

DYNAMITE ENTERTAINMENT

18

DEADPOOL KILLS THE MARVEL UNIVERSE

CULLEN BUNN

MARVEL COMICS

19

ORANGE: THE COMPLETE COLLECTION

ICHIGO TAKANO

SEVEN SEAS

20

ONE-PUNCH MAN VOL. 6

ONE

VIZ MEDIA

For past BookScan Top 20 Graphic Novel lists, see the "BookScan Top 20 GN Index."