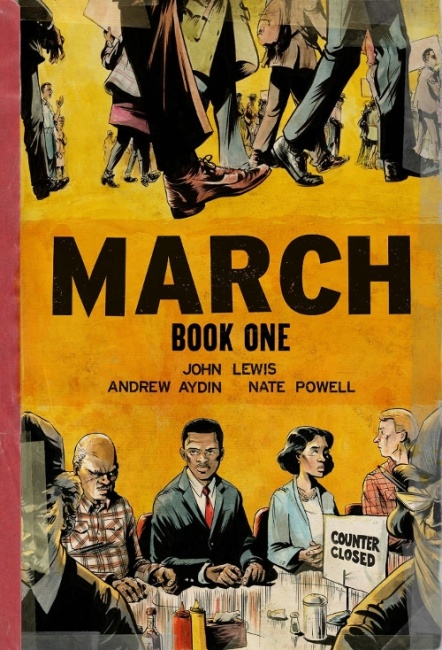 The audience for comics and graphic novels has been broadening steadily in recent years, and in September the Top 20 Adult Fiction Graphic Novel chart provided exclusively to ICv2 by Nielsen BookScan displayed that phenomenon perhaps better than ever before.
The top of the chart (three of the top four slots, including #1) was held by a historical memoir written by a revered civil rights leader; the #7 slot by a Marvel superhero story written by a best-selling African-American author; the #9 slot by the now-classic story of an Asian-American boy in school, created by a writer/artist of the same background who just won a MacArthur Genius Grant; the #12 slot by another new classic, a lesbian coming-of-age memoir (written by another Genius Grant winner) that's been made into a Tony Award-winning Broadway musical; the #14 slot by a hot new steampunk story set in Asia and created by a multi-national female team; and the #18 slot by a new science fiction story by a famed female author and essayist.
That's a pretty incredible roster for a medium that until fairly recently was dominated by stories by and about white males.
And that's really only the high points of a chart that shows the growing, and increasingly realized, opportunity to expand the audience for comics and graphic novels to include everyone who can read (now over 86% of the world's population, we're told by UNESCO). The top authors from the text world who are now sharing their talents in the comics medium as well (in five of the Top 20) are one reflection of that increasingly realized opportunity.
For over eight years we've been publishing these monthly charts as a way to show another part of the market than the one displayed in the month Top 300 charts of what's been selling in comic stores. The lessons that can be learned are often profound, but perhaps never more so than from the Top 20 chart for September 2016.
BookScan Top 20 Graphic Novels in September 2016

Rank

Title

Author

Publisher

1

MARCH: BOOK ONE

JOHN LEWIS

TOP SHELF PRODUCTIONS

2

THE WALKING DEAD VOL. 26

ROBERT KIRKMAN

IMAGE COMICS

3

MARCH: BOOK TWO

JOHN LEWIS

TOP SHELF PRODUCTIONS

4

MARCH: BOOK THREE

JOHN LEWIS

TOP SHELF PRODUCTIONS

5

ONE-PUNCH MAN VOL. 8

YUSUKE MURATA

VIZ MEDIA

6

BATMAN: THE KILLING JOKE DLX ED

ALAN MOORE

DC COMICS

7

BLACK PANTHER BOOK 1

TA-NEHISI

MARVEL COMICS

8

MONSTER MUSUME VOL. 9

OKAYADO

SEVEN SEAS

9

AMERICAN BORN CHINESE

GENE LUEN YANG

MACMILLAN

10

SAGA VOL. 6

BRIAN K. VAUGHAN

IMAGE COMICS

11

TOKYO GHOUL VOL. 8

SUI ISHIDA

VIZ MEDIA

12

FUN HOME: A FAMILY TRAGICOMIC

ALISON BECHDEL

MARINER BOOKS

13

HARLEY QUINN VOL. 1 TP (N52)

AMANDA CONNER

DC COMICS

14

MONSTRESS VOL. 1

MARJORIE LIU

IMAGE COMICS

15

TOKYO GHOUL VOL. 1

SUI ISHIDA

VIZ MEDIA

16

OMEGA MEN: THE END IS HERE

TOM KING

DC COMICS

17

WATCHMEN

ALAN MOORE

DC COMICS

18

ANGEL CATBIRD VOL. 1 HC

MARGARET ATWOOD

DARK HORSE COMICS

19

BATMAN/TMNT VOL. 1 HC

JAMES TYNION

DC COMICS

20

ONE-PUNCH MAN VOL. 1

YUSUKE MURATA

VIZ MEDIA
For past BookScan Top 20 Graphic Novel lists, see the "BookScan Top 20 GN Index."