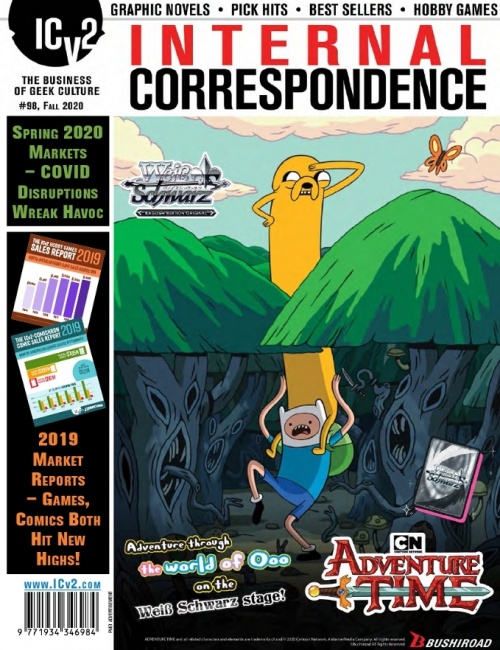 The hobby games business started strong in the first two months of 2020, but was then brought low and transformed in March and April as the initial impact of the COVID-19 pandemic hit North America. The only remotely comparable event-driven sales impact we've seen was the impact on store traffic and shopping immediately after the 9-11 terrorist attacks on the U.S., but the decline in sales in 2001 was not as steep or long-lasting as what we've seen in the first half of 2020. The extent of the retail, wholesale, and manufacturing shutdown in 2020 was unprecedented.
The new year started out up over a year ago, coming off a growth year in 2019 and a strong holiday season. Retailers and distributors that we interviewed about the period gave a variety of growth rates for January and February, with estimates centering around low to mid-single digit year-over-year growth.
March was the month when the situation deteriorated from minor problems to a major crisis, and the range of sales for game stores in April ranged from normal, or even above normal, in states without stay at home orders or for retailers doing most of their sales online, to zero for stores in locations with stay at home orders too strict to allow any work to be done in the store location, or for retailers who simply decided that trying to adapt to sell in the new environment was too costly for the sales that would result. Sales by online-only operations went up in some cases, or down modestly in others. Some brick and mortar stores with existing ecommerce operations were able to get up to 40% or more of normal sales, while others that were just starting down the path to omnichannel retailing had numbers much lower, around 10-20% of normal sales.
For charts of the top games in five categories, see:
Top Collectible Games – Spring 2020
Top Hobby Channel Board Games – Spring 2020
Top Hobby Channel Card and Dice Games – Spring 2020
Top Non-Collectible Miniature Games – Spring 2020
Top Roleplaying Games – Spring 2020
The full-length version of this article appeared in
Internal Correspondence,
or can also be read on the ICv2 Pro site,
click here
.
ICv2 Pro subscribers have early and complete access to
Internal Correspondence
content. To sign up for a free trial,
click here
.
Digital copies (PDFs) are available instantly from your favorite DriveThru store. To order a digital copy of
ICv2's Internal Correspondence
#98,
click here
.
For librarians and educators interested in subscribing to
ICv2's Internal Correspondence
, order from EBSCO (title #408-601-128) or WT Cox (title #128411).
If you are a U.S. retailer, e-mail Dennis Viau at
DViau@ICv2.com
to ask to be put on our mailing list.