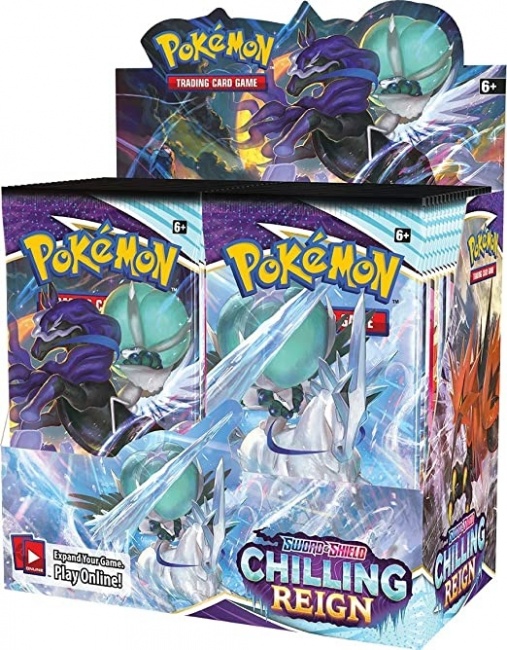 Pokemon TCG
was back on top in June, with the
Sword & Shield – Chilling Reign Booster Box
seeing the most aftermarket sales of sealed TCG products, according to the TCGplayer chart of the Top 25 Sealed TCG Products. It ranks the most active products on the TCGplayer platform by dollar volume, and shows the beginning and ending prices of each product.
Pokemon
was also the most active brand overall, as has been routinely the case in recent months, with nine of the top 25 products.
Magic: The Gathering
was second with seven, and
Yu-Gi-Oh! TCG
had a very strong month, with six. Three other products also made appearances on the chart.
This chart is based on sales on the TCGplayer platform, the largest marketplace in the U.S. for collectible card games including
Magic: The Gathering, Pokemon, Yu-Gi-Oh!
and other card games and supplies. TCGplayer provides inventory management and fulfillment services to retailers.
TCGplayer Top 25 Sealed TCG Products - June 2021 (via ICv2)

Rank

Product

Product Brand

Set Name

Month Start Market $

Month End Market $

1

Chilling Reign Booster Box

Pokemon

SWSH06 Chilling Reign

$140.37

$120.05

2

Modern Horizons 2 Collector Booster Display

Magic

Modern Horizons 2

$409.72

$339.58

3

Modern Horizons 2 Set Booster Display

Magic

Modern Horizons 2

$266.66

$233.32

4

Modern Horizons 2 Draft Booster Box

Magic

Modern Horizons 2

$294.95

$232.71

5

Battle Styles Booster Box

Pokemon

SWSH05 Battle Styles

$92.41

$97.16

6

Lightning Overdrive Booster Box 1st Edition

Yu-Gi-Oh!

Lightning Overdrive

$63.11

$68.80

7

Vivid Voltage Booster Box

Pokemon

SWSH04 Vivid Voltage

$188.16

$123.53

8

Modern Horizons 2 Prerelease Pack

Magic

Modern Horizons 2

N/A

$42.65

9

Monarch Booster Box 1st Edition

Flesh & Blood

Monarch

$386.95

$273.47

10

Chilling Reign Elite Trainer Box Shadow Rider Calyrex

Pokemon

SWSH06 Chilling Reign

$59.00

$43.19

11

Great Legend Booster Box

Digimon

Great Legend

$163.92

$102.92

12

Kings Court Booster Box

Yu-Gi-Oh!

Kings Court

$69.57

$72.87

13

Supreme Rivalry Booster Box

Dragon Ball Super

Supreme Rivalry

$108.77

$106.04

14

Shining Fates Elite Trainer Box

Pokemon

Shining Fates

$68.43

$67.45

15

Chilling Reign Elite Trainer Box Ice Rider Calyrex

Pokemon

SWSH06 Chilling Reign

$66.72

$43.30

16

Ghosts From the Past Box Display 1st Edition

Yu-Gi-Oh!

Ghosts From the Past

$112.78

$113.15

17

Hidden Fates Elite Trainer Box

Pokemon

Hidden Fates

$144.97

$149.93

18

Adventures in the Forgotten Realms Draft Booster Box

Magic

Adventures in the Forgotten Realms

$148.40

$138.77

19

Ghosts From the Past Box 1st Edition

Yu-Gi-Oh!

Ghosts From the Past

$24.09

$24.96

20

First Partner Pack Unova

Pokemon

First Partner Pack

$8.97

$11.96

21

Egyptian God Deck Obelisk the Tormentor 1st Edition

Yu-Gi-Oh!

Egyptian God Deck Obelisk the Tormentor

$11.50

$11.31

22

Adventures in the Forgotten Realms Collector Booster Display

Magic

Adventures in the Forgotten Realms

$298.30

$261.04

23

Shining Fates Booster Pack

Pokemon

Shining Fates

$6.95

$7.05

24

Commander Legends Draft Booster Box

Magic

Commander Legends

$111.96

$106.95

25

Egyptian God Deck Slifer the Sky Dragon 1st Edition

Yu-Gi-Oh!

Egyptian God Deck Slifer the Sky Dragon

$11.50

$12.08
-