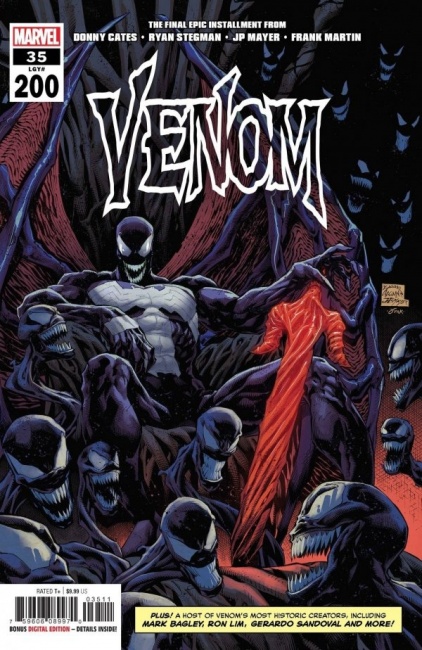 Marvel Comics continued to expand its comic store market share lead over second place DC Comics in Q2 2021, with roughly an 8% spread between the two companies, based on sales of comics and graphic novels tracked at point-of-sale by the ComicHub system at stores selling American comics around the world, and provided to ICv2. That's up from a nearly 7% spread in Q1 (see "
Comic Store Publisher Market Shares – Q1 2021
"), and a 3.6% share point lead in Q4 2020. Marvel has been steadily increasing its share since DC led Marvel in market share in the first Covid quarter, last year (see "
Direct Market Publisher Market Shares – Q2 2020
").
Covid trends weren't all fading, though, the market shares of Image and BOOM! Studios, at 15.4% and 5.3%, respectively, were recent highs, and manga is represented, with two companies in the top 10 publishers in comic stores.
Comic Store Market Share (Dollars) – Q2 2021

(ComicHub Data, via ICv2)

Rank

Publisher

Market Share

1

Marvel Comics

32.2%

2

DC Comics

24.3%

3

Image Comics

15.4%

4

BOOM! Studios

5.3%

5

IDW Publishing

4.3%

6

Dark Horse Comics

3.4%

7

VIZ Media

3.2%

8

Dynamite Entertainment

1.1%

9

AfterShock Comics

0.9%

10

Kodansha Comics/Vertical

0.8%

All others

9.0%
The data on which these market share percentages are based is from sales tracked at point-of-sale by the ComicHub system at stores selling American graphic novels around the world. During the period for which these reports were generated, there were over 100 stores using the ComicHub system. As this is a small, non-random sample of over 3,000 stores selling American comics worldwide, these rankings may not be typical for all stores, but do represent a variety of locations and store emphases.

The differences in how the data behind these charts is collected compared to past market share charts based on sales by Diamond Comic Distributors to comic stores are many. Here are some:

Sell-in charts show all the launch sales happening on the same day, while sell-through sales happen over time, moving sales into different periods.

Sell-in shows what retailers think they will sell, while sell-through shows what they actually do sell.

Sell-in sales are influenced by incentive variants, which increase the number of copies ordered (to get a variant that can be sold at a premium price), but may not increase the number of copies sold at retail by the same amount.

For monthly sales rankings based on ComicHub POS data, see "Comics and Graphic Novel Sales Rankings Based on Comic Store POS Data Index."