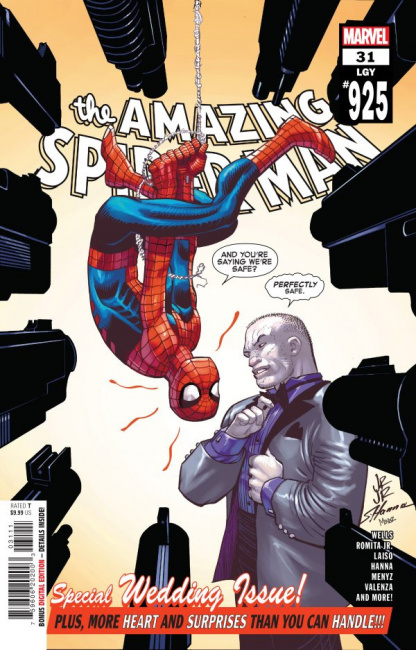 Marvel Comics and IDW Publishing both increased their market shares of comic and graphic novel sales in comic stores compared to Q3 2022 (see "
Comic Store Market Shares – Q3 2022
"), and Titan Comics made its appearance for the first time since ICv2 started calculating market shares based on ComicHub statistics in 2020.
Gains for one publisher mean a loss for another, and in this case, Image Comics lost over a point year over year, going from 10.9% in 2022 to 9.8% in 2023. Dark Horse Comics dropped half a point to 3.2%, and VIZ Media and Dynamite Entertainment both shaved off a few points as well. DC Comics and Kodansha Comics showed slight gains. BOOM! Studios stayed steady at 4.2%, but IDW's gain meant it was pushed down from fourth to fifth place.
The share of "All Others" dropped from 9.9% to 9.4%.
Comic Store Market Share (Dollars) – Q3 2023 [ComicHub Data, via ICv2]

Rank

Publisher

Market Share

1

Marvel Comics

37.8%

2

DC Comics

24.9%

3

Image Comics

9.8%

4

IDW Publishing/Top Shelf Books

5.0%

5

BOOM! Studios

4.2%

6

Dark Horse Comics

3.2%

7

VIZ Media

2.2%

8

Dynamite Entertainment

1.8%

9

Titan Comics

0.9%

10

Kodansha Comics

0.8%

All Others

9.4%
The data on which these market share percentages are based is from sales tracked at point-of-sale by the ComicHub system at stores selling American comics and graphic novels around the world. During the period for which these reports were generated, there were over 125 stores using the ComicHub system. As this is a small, non-random sample of over 3,000 stores selling American comics worldwide, these rankings may not be typical for all stores, but do represent a variety of locations and store emphases.

For monthly sales rankings based on ComicHub POS data, see "Comics and Graphic Novel Sales Rankings Based on Comic Store POS Data Index."