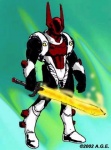 Palisades Marketing, a Maryland-based company that specializes in creating toys for collectors has acquired licenses to create a line of Micronauts toys as well as minibusts for G.I. Joe, Alien, and Predator. Recent revivals of The Transformers (see 'Dreamwave Gets Transformers'), Battle of the Planets (see 'Diamond Select Adds Battle'), and G.I. Joe (see 'G.I. Joe #2 Sells Out') have provided a distinctly 'retro' element that both publishers and manufacturers are attempting to exploit as they rush backward to embrace 1980s pop culture icons. With its offerings for 2002, which also reportedly include a lineup of 6' Muppet figures, Palisades Marketing is doing its best to take us 'back to the future.'
Micronauts
Based on the Mega toy license, the Micronauts found success in a variety of formats in the late 1970s and early 80s. Now Devil's Due studio plans to revive the Micronauts comics. Founded by Joshua Blaylock, Devil's Due releases its books under the Image banner and the studio has had a major success with its revival of G.I. Joe. Devil's Due plans to release its first Micronauts comic in June (see 'Devil's Due Gets Rights to Micronauts') and Palisades will be close behind with the first wave of Micronauts toys. Michael Golden, who worked on the fondly remembered Marvel Micronauts comics, will produce the covers for the first few issues of the new Devil's Due Micronauts series.
The first wave of Palisades Micronauts toys will also hearken back to the series golden age with authentic recreations of the popular original series. One of the key elements of the original Micronauts toys was the interchangeability of the various parts, which allowed for some very creative play. Palisades will maintain that feature in its line of Micronauts toys, which will include Acroyear, Baron Karza and all the gang. The figures will retail for around $8.99, and a limited number of figures will feature faux-retro packaging and different paint schemes. Look for more details and photos here in the future.
G.I. Joe
Toy giant Hasbro created G.I. Joe and is one of the main forces behind the revival of the terrorist-fighting soldier. In addition to its own extensive line of G.I. Joe action figures and vehicles, Hasbro has licensed Palisades to create a resin mini-bust, which will appear in May. Devil's Due also publishes the G.I. Joe comic in partnership with Image, and retailers who carry comics don't need to be reminded how well this particular 80s character revival is going.
Alien & Predator
Although based on movies rather than on TV series and toy lines, both Predator and Alien, which was originally designed by Swiss artist H.R. Giger, were featured prominently in comic books published by Dark Horse starting back in the late 1980s.

Palisades is releasing mini-busts of both Alien and Predator in the spring of 2002.

The mini-busts will stand almost 7 inches tall, weigh in at 4 pounds, and retail for around $54.95.