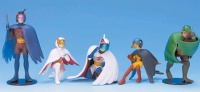 Diamond Comic Distributors has managed to forge major links with a number of Japanese toy companies, and the result is a series of superb imported toys available at very reasonable prices. This month Diamond's parade of Japanese imports continues with a number of spectacular releases that tie in to major events in the U.S. toy and anime markets, along with the first series of toys from a cutting edge anime series by the studio that produced the mega-hit Neon Genesis Evangelion.
Battle of the Planets Gashapons
The 80s revival is in full swing (see 'Back to the Future II') and Diamond's own toy-producing subsidiary, Diamond Select, has acquired a license to create toys from the classic anime Battle of the Planets, which enjoyed a long run on American TV in the 1980s (see 'Diamond Select Adds Battle of the Planets'). Alex Ross is supervising a Gotchaman, G-Force, Battle of the Planets comic series from Top Cow (Image) that is set to bow in June (see 'G-Force Back With a Vengeance'), so this property is really starting to take off once again.
Gashapons are small toys that are traditionally sold in plastic capsules in Japanese vending machines. Now Diamond has managed to create a collector's window box package that contains fully painted figures of all five of the G-Force team members. This supercool little figure set is slated for an April release, which means that retailers who are so inclined should be able to assemble a Battle of the Planets section with toys, videos, and comics just in time for heavy summertime traffic.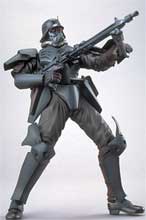 Jin-Roh Figure
Bandai is set to release the
Jin-Roh
anime in March (see '
Bandai Sets Jin-Roh DVD Release
') and this serious science fiction anime is sure to find favor with fans thanks to its brilliant animation and superb storyline.
An exercise in alternate history,
Jin-Roh
takes place in a world in which the Axis won World War II and Germany has subsequently conquered and occupied Japan.
After the Germans leave the Japanese government's counter terrorism unit fights a bloody war against homegrown revolutionary organizations. Just in time for the DVD (which will be released in a special collector's edition as well as in a regular version), Diamond is importing the Medicom
Jin-Roh
action figure.
This 5-inch figure is set to ship in March. It comes complete with 5 interchangeable weapons, a variant (helmet-less) head, and features 12 points of articulation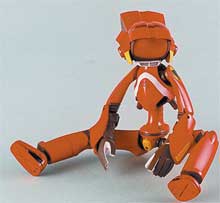 FLCL
FLCL
, also known as 'Fooly Cooly,' is a product of Studio Gainax, the company responsible for Neon Genesis Evangelion.

This 25-episode anime series should receive its U.S. debut from Digital Manga later this year, and many U.S. anime fans are already aware of the quirky series with its grumpy robot and cute girls thanks to Japanese FLCL DVDs with English subtitles.

Diamond is importing two FLCL figures made by Kaiyodo in Japan.

The ultra-cool red robot, Kanchi, who is almost as irascible as Futurama's Bender, features a variant hand and 17 points of articulation.

The other action figure is based on Haruhara Haruko, the guitar-slinging tomboy who complicates the life of FLCL's erstwhile teenage hero.

These two FLCL figures are set to ship to retailers in July of this year.