Mattel's corporate strength is based on its ascendancy in 'girls' toys' (think Barbie) and in 'wheel toys' (think Hot Wheels). So Mattel is much less dependent than Hasbro on action figures, but the company managed to do quite well in the category in 2001 thanks to its licensed Harry Potter toys, which helped fuel a fourth quarter boom in action figure sales. So far, at least, Mattel is playing the sequel very cautiously, having unveiled just a few playsets for the next Harry Potter movie, Harry Potter and the Chamber of Secrets, which bows in November. As is the case with Hasbro, Mattel's 2002 line-up of action figures and related playthings is relatively modest, and like Hasbro with G.I.Joe, Mattel has brought back a proprietary line from the 1980s, He-Man and the Masters of the Universe. Mattel's line also has an anime component, a line of figures based on the Yu-Gi-Oh anime series, which is currently airing on the Kids WB. Also, though Mattel ceded the Disney license to Hasbro, the company has kept its hand in the animation arena by licensing a number of properties from the Nickelodeon cable network including Jimmy Neutron and SpongeBob SquarePants.
Masters of the Universe
Mattel was showing off its new look He-Man at last year's San Diego Comicon (see 'He-Man Returns (Anime Style)'), but the product was postponed and is not scheduled to ship until July of this year. The new He-Man has shed some of his muscular bulk, and his wild golden locks are a clear reference to anime, but the question is whether this hero can re-establish himself without a new cartoon series. Mattel has a full line of Masters of the Universe toys set for release in 2002 including assortments of Heroic Warriors, Evil Enemies, Beast Riders, Deluxe Figures, the Bashin' Beetle, and, of course, a Castle Grayskull Playset.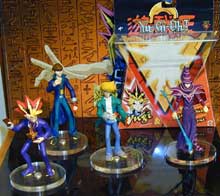 Yu-Gi-Oh
This property has generated over $2 billion in sales in Japan, most of which came from the collectible card game (which Upper Deck is publishing in the U.S. see 'Upper Deck Gets Yu-Gi-Oh'). Mattel's Yu-Gi-Oh toys, which should start to hit the market in April, include a 2' Action Figure Assortment, which will be followed by 6' articulated action figures shipping in July along with the Deluxe Monster Assortment. Add in some puzzles, games and the 2' Deluxe Playset and you have an ambitious program for a new property, which stands out all the more in a cautious year.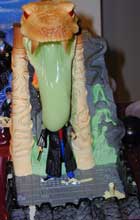 Harry Potter
A first wave of pre-movie Harry Potter paper products didn't sell in bookstores with anything approaching the velocity of the books (see 'Wary of Harry'), but all indications are that the Harry Potter figures and play sets did quite well during the last holiday season (to the tune of about $160 million for Mattel, see 'Licensing Is Back'), and there is no denying that the film has been a worldwide hit of incredible proportions. Still Mattel, with the second Potter film set for a late fall release, has so far limited itself to the following new HP releases: the Whomping Willow Game, the Basilisk Playset, the Weasley Flying Car, the Polyjuice Potion Maker, the Snake Bites Edible Activity Set, a Weasley House Micro Playset, a Talking Hermione, and two new Deluxe Creature Features (the Centaur and Aragog).
Nickelodeon
Mattel is continuing its line of Nickelodeon-based properties with a major emphasis on Jimmy Neutron.

Jimmy Neutron, the star of a successful recent theatrical cartoon, will soon be represented at retail with the Jimmy Neutron Robo Walker as well as a series of Jimmy Neutron Acton Figures, which are shipping in March.

A Jimmy Neutron

'Collectible Figure' Assortment ships in June.

Only one new SpongeBob SquarePants item, the Eye-Poppin' SpongeBob, is set for release in 2002.

Two Rugrats toys, Dance Groove Angelica and Snuggle Sound Dil round out Mattel's modest line of Nickelodeon-licensed toys.