The one company to emerge as a new major player in the action figure field at the 2002 Toy Fair was Art Asylum, whose showroom was second only to McFarlane Toys in its devotion to state of the art action figures. Founded and led by artists who produced some of the most popular sculpts for other companies' figures, Art Asylum has entered the market in a major way in the past year, acquiring the licenses for Crouching Tiger, Hidden Dragon figures (see 'Art Asylum Unveils Crouching Tiger Figures'), as well as Star Trek (see 'Art Asylum Gets Star Trek License'), and now the James Cameron-produced Dark Angel television series. Add in Art Asylum's numerous music-inspired offerings and a healthy helping of 'kubricks,' which the company refers to as 'minimates,' and you have a major lineup for 2002.
Dark Angel
Art Asylum's initial offerings for this James Cameron-created series about a genetically-modified female 'super soldier,' include superbly sculpted 7-inch action figures for the comely
Max X5-452
(Jessica Alba),
Joshua
, and
Logan Cale
, as well as a deluxe set that includes
Max
and her
Ninja 600
motorcycle, which comes complete with flashing lights and speed action.
All these figures, which are clearly targeted at collectors, come with hoverdrone and accessories.
In addition to the action figures, Art Asylum is also creating a set of four
Dark Angel Minimates
, which are set to ship in June.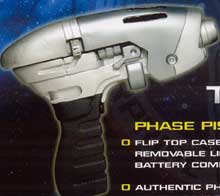 Star Trek
When Art Asylum initially got the
Star Trek
license, writers on some of the fan sites expressed the fear that Art Asylum's style was too 'arty' for the average Trekker, who possesses what might be called the 'pocket-protector' aesthetic.
But a look at Art Asylum's Star Trek line, especially the major portion of it which is given over to the new series Enterprise, quickly proves that the Art Asylum toys are firmly rooted in the realities created by the various
Star Trek
series.
If the
Star Trek Borg Assimilation Figures
give free rein to Art Asylum's penchant for grotesquerie, the
Phase Pistol
,
Communicator
, and the
12-inch Electronic Enterprise NX-01
are spot-on recreations of Trek hardware, and the two series of 7' action figures from the new
Star Trek: Enterprise
series are wonderfully accurate likenesses complete with uniforms and accessories, which like the
Phase Pistol
,
Communicator
and
Electronic Enterprise
, are modeled directly off
Enterprise
studio props. The first series of
Enterprise 'Broken Bow' Action Figures
ships in June.
A deluxe version of the
Broken Bow
figures ships in August.
The deluxe figures ship with a bridge console base that links together to form a huge electronic NX-01 Bridge diorama with electronic sound and light up action.
In August Art Asylum will ship another series of
Enterprise Action Figures
featuring select members of the
Enterprise
crew (Archer, T'Pol, Tucker, Sato) in away team EVA suits.
Music
Art Asylum has gained much of its reputation as a cutting-edge company with a number of highly-detailed action figures for pop stars like Eminem, Rob Zombie, and Alice Cooper as well as updated versions of the old jack-in-the-box toys called 'N' The Box' (see 'Rock 'N Boxes From Art Asylum') that feature rock stars and their anthemic hit songs.

New for 2002 are 'N' theBoxes for all four of the members of Kiss as well as for Iron Maiden's mascot 'Eddie.'

In addition to all the heavy metal heroes, Art Asylum is also doing a line of figures based on the alt/ska/whatever band Gorillaz, an animated creation of Tank Girl creator Jamie Hewlett and Blur front man Damon Albarn.

Ten-inch vinyl roto figures of 2-D, Noodle, Murdoc, and Russel will ship in June along with a set of Gorillaz 3-D Keychains.