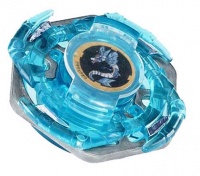 Beyblade, the high tech spinning top combat game that took Japan by storm, is slowly but surely establishing a beachhead here in the U.S. At the 2002 Toy Fair in February it appeared that even though toy giant Hasbro had the North American license for Beyblade and an ambitious plan to replicate the toy's Japanese success in the American market, a number of other companies already had similar battling tops games ready for the market and these other customizable tops appeared ready to blunt the force of the Beyblades invasion of the U.S.A (see 'Licensing Is Back At Hasbro'). But the presence of the Beyblade anime series on the ABC Family Channel, where it airs seven days a week (see 'Beyblade's Daily Run A Success'), has solidified the Hasbro product's brand dominance (its rivals have no anime series to give them a brand identity). In Canada, where the show is celebrating its season finale this Wednesday on YTV, the phenomenon is even bigger. Having disposed of its rivals, the question now is how big can the phenomenon become?
Although its success has been obscured by the gaudy dominance of another Japanese import, the Yu-Gi-Oh collectible card game, the Beyblade tops nevertheless have become hot products in their own right in many areas of the country. The Lycos 50 report on Internet searches finds only the three top videogame platforms, Yu-Gi-Oh cards, and Barbie dolls get more searches from young fans looking for more information about their favorite toys. Some retailers are running in-store events at which fans can battle their tops against others. Here at ICv2, we've been following this property for almost two years (see 'Anime Ignites Tokyo Toy Craze'), so it's no surprise to our readers.
In a prime example of laser-guided marketing. Beyblade is being featured throughout the month of November on over 4 million school cafeteria menus in primary and middle schools throughout the U.S.

The menus direct kids to the ABC Family Channel and to the Beyblade Website, which is currently running a sweepstakes promotion in which players can win a wide array of toys and merchandise.

Even though the Beyblade tops can be customized in many cool and unique ways, they are still basically spinning tops, certainly one of the most ancient toys of all.

But this heritage doesn't appear to weighing down the Beyblade phenomenon, which is backed by a popular cartoon series and has been cleverly marketed to the proper juvenile demographic.