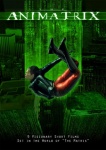 The first of nine animated segments that fill in crucial details on the history and development of The Matrix will appear on the Web in February. The segment, which is titled The Second Renaissance, was written by Matrix creators Larry and Andy Wachowski and directed by Mahiro Maeda, who directed the anime classic Blue Submarine #6. According to the official Matrix Website, The Second Renaissance is a 'history lesson that gives visceral insights that are far beyond what is currently known about The Matrix.' Fans will be able to download the entire episode as well as several subsequent segments of the Animatrix which will be released on the official Matrix Website before the first of 2003's two Matrix films, The Matrix Reloaded, bows on May 15.
Although earlier reports indicated that there might be as many as ten segments in the Animatrix compilation (see 'Animatrix Will Bow On Web'), with contributions from a number of key anime studios including Madhouse, Production I.G., Bones, and Square, it now appears that the Animatrix DVD will include nine segments.

Some of the chapters in this animated history of The Matrix, such as The Second Renaissance, will be available free of charge over the Internet, but fans will have to buy the Animatrix DVD in order to get the full story.

So far there has been no word on when the Animatrix DVD will be released, but it should be available in mid-2003 as various designs for the box art have already been posted on the Web.