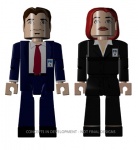 Based on encouraging preliminary sales figures for the block figure Buffy the Vampire Slayer PALz (block figures), Palisades Toys has obtained the license to release PALz based on The X-Files.
Four two-packs of The X-Files PALz, the first assortment, are due this fall.
The X-Files PALz, Series 1 consists of:
Special Agent Fox Mulder/Gray Alien 2-Pack, with accessories such as a flashlight, cell phone, a bag of sunflower seeds, FBI badge and a gun.
Special Agent Dana Scully/Donnie Pfaster 2-Pack comes with a gun, FBI badge, shampoo bottle, flashlight, and interchangeable demon hands and head (for Donnie).
Deep Throat/Flukeman 2-Pack will include a gun, alien embryo in stasis tube and a small flukeworm.
Frohike/The Conundrum 2-Pack will have accessories such as a leather hat, a cable descrambler, a liquor bottle and a half-eaten fish.
Palisades Toys states that figures and accessories are subject to change.
Palisades seems to be headed for a busy sales season this fall, with The X-Files PALz joining already announced Invader Zim Action Figures (see 'Palisades Unveils Invader Zim Figures').