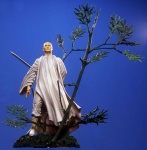 Art Asylum unveiled its collection of four action figures from the multiple Academy Award-winning film Crouching Tiger, Hidden Dragon. The first four figures are Li Mu Bai (played by Chow Yun Fat), Yu Shu Lien (Michele Yeoh), Jen Yu (Zhang Zi Yi), and Lo (Chang Chen). The 7' action figures will be available by themselves for $9.99 each, and with elaborate bases for $14.99. The bases are really backdrops that faithfully recreate some of the film's most interesting sets and locations. The price and quality of these figures demonstrate that they are aimed directly at the collectors market. With its poetic style and balletic fight scenes Crouching Tiger is the cult film that became a mass hit, grossing more than any foreign language film had ever done before (see 'Crouching Tiger Breaks Record'), and setting sales records in its DVD debut (see'Crouching Tiger DVD Boffo'). With an animated cartoon and a sequel in the works, Crouching Tiger has some long term potential.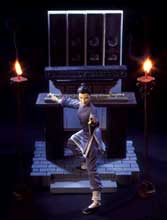 The figures themselves are very cool and very detailed with excellent likenesses.
Li Mu Bai (Chow Yun Fat) comes with accessories that include the Green Destiny sword, bamboo stick, and Wudan sword.
His base is the bamboo forest, recalling the treetop battle he fought with Jen Yu (Zhang Zi Yi) in the film.
Jen Yu's accessories include a removable ninja mask, sheath for the Green Destiny sword, and Wudan sword.
Her base is a replica of the doorway leading to the room where the Green Destiny sword was kept.
Yu Shu Lien (Michelle Yeoh) comes in her Sun Security uniform with accessories that include a sword and the Green Destiny carrying case. Her base is the room where the Green Destiny is stored, and it can be connected with Jen Yu's base.
The fourth figure is Lo, the border chieftain who steals Jen Yu's heart.
His base is a desert cliff.
When these figures were first announced (see ' Crouching Tiger Figures and Graphic Novel'), each figure was going to be accompanied by a comic and the comics would be collected into a graphic novel that Image would publish.

But the comic portion of the deal has evidentally fallen through, and the figures will not come with comics.