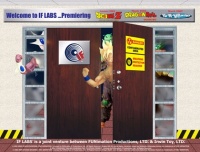 Funimation, the packaging firm that licenses and packages
Dragon Ball
and
Dragonball
Z
for North America, has joined forces with Canadian-based Irwin Toy Company to create IF Labs, a new Fort Worth-based toy company that will be producing toys based on the
Dragonball Z Movies
and the original
Dragon Ball
series.
Irwin Toy will continue to be the master toy licensee for the
Dragonball Z TV
series (see '
Irwin Shows Off Horde of DBZ Toys
'), and will continue to produce
DBZ
toys on its own.
Meanwhile IF Labs will create figures 'of the highest quality and value' for the
DBZ Movies
, the original
Dragon Ball
series, and
Yu-Yu Hakusho
(see '
Funimation Seeks Follow-Up to DBZ
').
The highly detailed IF Labs figures will stand approximately 8' tall and will retail in the $12-$14 range.
The first series of IF Labs DBZ Movie Collection figures, which debut in January, will include: Battle Damaged Super Saiyan Goku; Battle Damaged Piccolo; Lord Slug; and Cooler. Since the mission of IF Labs is, according to Funimation President Gen Fukunaga, 'to create action figures made with the collector in mind using exceptional paint detail and sculpting,' the new company has spared no expense and hired some of the best sculptors in the business including the Infinite Mindz group, responsible for many of the great sculpts done for McFarlane Toys (including the hyper-realistic McFarlane Sports Picks).
The second series of IF Labs figures will be based on the charming, superbly animated original Dragon Ball series that finally debuted this week on the Cartoon Network (see 'Dragon Ball Debut Set'). The Dragon Ball figures will include Goku with Monster Carrot, Pilaf with Sharo, and Bulma with Master Roshi. The Dragon Ball figures will bow in March along with the first series of figures from Yu Yu Hakusho, which includes action figures for Yusuke, Kurama, Hiel, and Kuwabara.
The high quality action figures that IF Labs will create should provide pop culture retailers with yet another way to profit from the Dragonball Z phenomenon.

DBZ remains at the top of the Lycos List of Top 50 Internet searches -- and Dragon Ball and DBZ now take up three-quarters of the Cartoon Network's Toonami block. Given its TV ratings success DBZ is clearly the most popular anime property in the U.S. at the present time.

Funimation's decision to create IF Labs testifies to the company's understanding of the importance and potential of the collector's market.