Seth McFarlane's half-hour animated series Family Guy proved there was life after cancellation, scoring impressive ratings as it returned to Fox's Sunday night schedule. While ABC's Desperate Housewives won the 9pm (ET, PT) timeslot, Family Guy more than doubled the ratings of previous Fox shows in the time period and actually attracted more young (18-34) male viewers than did Desperate Housewives.
The Family Guy series managed to gain momentum during its absence from network TV thanks to repeated showings on the Cartoon Network's Adult Swim block, where it regularly drew more young male (18-24) viewers than Leno or Letterman. But Fox Licensing and McFarlane aren't content with simply re-establishing the series on Sunday nights -- they want to create a Simpsons-like merchandising juggernaut, and they appear to be at least part way to their goal.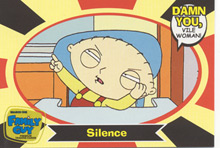 One of the newest items in the growing array of Family Guy merchandise is Inkworks' the Family Guy Season One Trading Cards. Each of the 6,300 boxes produced by Inkworks includes a unique hand-drawn sketch card done by one of 14 different artists including some involved in the production of the show, like Greg Colton, as well as others like Tone Rodriguez and Rich Koslowski, who are well known in the comic book industry.
In addition to the sketch cards Inkworks is also randomly inserting autograph cards from a number of the series' voice actors including Seth MacFarlane (Stewie), Erik Estrada (the Friendly Officer) and Alex Borstein (Lois).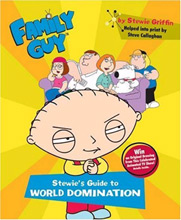 Of course Stewie, the maniacal one-year-old genius and Brian the family's dog (and most intelligent member) are featured prominently in the Inkworks trading cards as well as in a wide variety of other licensed items including t-shirts from Changes (emblazoned with Stewie's catchphrase, 'You Suck'), books from Harper Collins (Stewie's Guide to World Domination), action figures from Mezco, and even beverages (Stewie's Mind Erase Elixir). So far more than 50 licensees have signed on to promote a brand that Fox hopes will reach Simpsonsesque proportions, but whose raunch factor might limit it to the impressive, if not Olympian, success of a South Park.