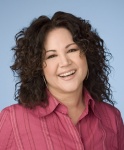 ADV Films has hired former Cartoon Network executive Terry Kalagian to assist in acquisitions and development of American, Japanese, and other international programming. Kalagian is a 10-1/2 year veteran of Cartoon Network, where she was most recently Vice President of Acquisitions and Co-Productions. She also served as VP of Programming and Scheduling, VP of Research, and Director of Research during her tenure at the network.
In her role at Cartoon Network, Kalagian both acquired licensed shows, including anime, off the shelf ('I would scour the markets to make acquisitions,' she said), and co-produced new shows. In her co-producer role, she would 'work on the creative to get the shows to fit our audience and our network,' she said.
Kalagian said she was excited about the opportunities to expand ADV's offerings. 'I'm selective in who I work with, and ADV is a priority company for me,' she said. 'With their expertise in retail and other platforms, books, and magazines, there are other kinds of shows they can distribute. They have huge potential, and I'm very happy to help them get there.'
ADV Senior Vice President Mike Bailiff described the relationship from the ADV side. 'With her wide range of experience, longevity in the industry, and the relationships she has, she'll be very valuable to us,' he said. 'She'll help us take it to the next level as we broaden our business.'
In addition to her consulting relationship with ADV, Kalagian continues to serve as the Cartoon Network executive producer for George of the Jungle and Stormhawks, is consulting for Mattel, and will probably add one additional client.