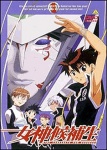 Bandai--Japan's number one toy-maker--is planning on expanding its presence in the U.S. retail toy market this year.
In addition to increasing its popular
Gundam
line, Bandai America will release anime collector sets late this spring.
Each set, priced at $14.99, will include three figures, one of which is seven inches tall, while the other two are four and a half inches high.
In addition to characters from Gundam Wing, Outlaw Star, and Blue Submarine #6, which are running (or will be again shortly) on the Cartoon Network, the anime collectors series will also include figures from other Bandai properties such as Escaflowne, which had a short run on Fox Kids, and Cowboy Bebop, which is not currently on American TV, but which has done very well for U.S. anime packager, ADVision. Even more daring is Bandai's inclusion in the series of figures from two series which won't debut until the fall on the Cartoon Network, namely The Big O and Pilot Candidate (see 'Cartoon Network Adds Two New Anime'). Given the positive response to the gritty Outlaw Star, these two action-packed series are likely hits, but after often having to wait for long periods of time after an anime has appeared on American television until reasonably priced U.S. versions of the toys appear, it is refreshing to think that action figures for The Big O and Pilot Candidate will be available well before the shows are broadcast on the Cartoon Network.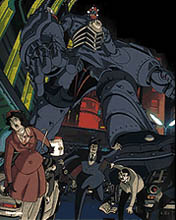 Gundam Wing will be back on the Cartoon Network starting on March 12th at 4:30 pm. EST. The Cartoon Network will no longer show uncut versions of Gundam after midnight, which might hurt ratings, but which should provide fans with more impetus to buy the Gundam DVDs, and thus work to the anime retailer's advantage. Bandai will take advantage of Gundam's return with a host of new models and products. Bandai is also planning a major Gundam outreach program -- an interactive tour developed in conjunction with Wal-Mart which will last from March to October and include model-making seminars along with generous doses of Gundam lore and anime history. While it's too bad that Bandai isn't including some specialty stores in this ambitious plan, the Gundam Tour is sure to create new anime fans whose interest in anime will quickly go beyond Wal-Mart offerings and eventually land them in a more specialized and deeper retail environment.