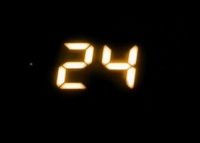 Press Pass announced at the GAMA Trade Show in Las Vegas on Tuesday that it has acquired the rights to produce a TCG based on the hit television show 24. The first releases are planned for August and September, supported by a major advertising campaign and organized play.
Two introductory SKUs will be released on August 16th. 24 Basic Training Starter Sets, two person learn-to-play sets, will include 52 cards, rules, and a play mat at a $16.99 MSRP. 24 Tactical Packs, designed for sealed deck events, are 24-card fixed themed decks (plus one 'Elite' card). Starter Sets will be released to both hobby and mass; Tactical Packs are hobby only.
On September 12th, first edition Booster Packs will street, each with 12 cards for a $3.79 MSRP. A five level rarity scheme, with common, uncommon, rare, Chase, and Elite levels, is planned. Boosters will be sold in both hobby and mass channels.
The 24 property is one of the strongest on television; the Season 6 premiere shows averaged 15.7 million viewers. The show is #1 in its time slot among total viewers, and is #1 for key adult, men and teen demos, and #2 for the key women demo. Licensing includes both action figures (McFarlane, see 'McFarlane Gets 24') and a comic from IDW.
An extensive marketing plan is in place to support the launch, including both print and online advertising, an aggressive convention schedule, and heavy promotional activity. Promotions will include promo cards for retailers that pre-order 1st edition, promo cards to spur off-month sales, and pre-release exclusives each expansion.
Tournament support includes free kits to registered retailers for up to one tourney per week, and exclusive promo foils. Pre-release events will be held for every expansion. City Championships will start in February.
Press Pass also laid out its release schedule for the next year. A 24 Gift Pack will be released in December. In 2008, three expansions are planned: Spec Ops in January; Crossfire, in the summer; and Master Plan, in the fall. Day 1 Tactical Packs will be released in Summer 2008.