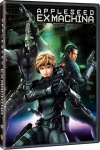 Warner Home Video has announced the March 11th, 2008 release of Appleseed: Ex Machina, the sequel to the popular 2004 CGI Appleseed feature film. Shinji Aramaki directed both the original Appleseed film and its sequel, both of which were based on the Appleseed manga created by Masamune Shirow (Ghost in the Shell). Appleseed: Ex Machina will receive its American premier at the Jules Verne Adventures Film Festival in Los Angeles on December 15th.
Appleseed: Ex Machina will be released in a regular DVD edition (MSRP $24.98) and in both HD formats--a combination HD DVD and regular DVD Combo (MSRP $34.95) and on Blu-Ray (MSRP $34.95). Anime is one genre in which the visual advantages of the HD formats is readily apparent, especially on today's large format HD TVs.
Aramaki's 2004 Appleseed movie, which was distributed here by Geneon, was one of the top-selling anime DVDs of 2005 in the North American market, selling well over 100,000 units (see 'Appleseed Sells 85 K').