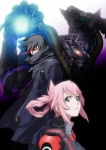 GDH, the parent company of the Gonzo anime studio, has announced that two new anime series, The Tower of Druaga and Blassreiter, will be made available online (with English subtitles) on the same day of their TV broadcast in Japan. The two series will be available via three Websites, YouTube, Crunchyroll and BOST TV. The technical and commercial specifics of this video distribution will vary between the Websites and range from free streaming to fee-based downloads of high-resolution movie files. This service is only for viewers outside of Japan.

GDH is authorizing this bold move in an attempt to close the gap between the time a series airs in Japan and when it is available in the rest of the world. Japanese anime companies are well aware of the extent of the proliferation of illegal downloading of fan-subbed versions of their intellectual property (see "Six Million Anime Downloads a Week") and what GDH is doing is to provide "a legal online alternative to illegal file-sharing and downloading," and to "explore new business models that both maximize revenues from content exploitation and savings on distribution costs."

The two series that Gonzo is providing are not promotional shorts, they are full-blown, half-hour, 13-episode anime that are set to debut in Japan in early April. The Tower of Druaga: The Aegis of Uruk is a fantasy/adventure series loosely based on the classic Namco arcade game, while Blassreiter is a superhero-tinged near future saga set in Germany that involves terrifying "zombies" as well as a number of people with special powers who can change into "demons" and who choose use their powers in a variety of ways that range from attempting to achieve justice to getting revenge and acquiring power for its own sake.


The Tower of Druaga and Blassreiter are two of the five announced Gonzo series set for 2008 release. Two of the other Gonzo projects, Rosario + Vampire, which debuted in January, and Special A (broadcast date unknown) are based on manga series released in North America by Viz Media.