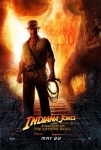 Indiana Jones and the Kingdom of the Crystal Skull topped the box office with an estimated gross of $101 million over the three-day Memorial Day weekend, the highest total of the year so far. Indy 4's weekend performance was even more impressive considering that it earned $25 million at 2000 locations on its opening day, Thursday. The film's estimated five-day total of $151 million represents the fifth best five-day total ever behind Spider-Man 2 ($152.4 million), Spider-Man 3 ($169.4 million), Pirates of the Caribbean: Dead Man's Chest ($169.5 million), and Star Wars Episode III: Revenge of the Sith ($172.8 million).
The new Indiana Jones film also took in $147 million in foreign box office, the fifth best overseas tally in history. While the domestic audience for Indy 4 rose 19% from Friday to Saturday (a good sign), the film received only a grade of "B" from viewers on CinemaScore, which could indicate that it will have a big drop off during its second weekend. The 19 year hiatus in the franchise didn't appear to deter audiences, especially those who might have remembered the earlier films—the new Indy film did well with older viewers—66% of the audience was over 25. Viewers were split evenly between men and women indicating that the film had broad appeal—and 30% of the viewers came with family members solidifying its status as an archetypal "family" film.
Opening in 4,260 theaters, the third widest release in history, the new Indiana Jones film was the only major film debuting this weekend since the other Hollywood studios gave Paramount's eagerly awaited sequel a wide berth. Films that opened earlier in the month felt the crack of Indy's whip--The Chronicles of Narnia: Prince Caspian, which was less than stellar in its debut last week, fell nearly 59% during its sophomore session, earning an estimated $23 million, followed closely by Iron Man, which dropped just 36.7% while bringing in $20.1 million, and raised its four week cumulative to $257.8 million. Iron Man, which has held up surprisingly well, surged past Tim Burton's 1989 Batman ($251.1 million, but it would be much more today's dollars) and is poised to overtake Pixar's The Incredibles ($261 million) on the all time top-grossing superhero film list. It now appears that Marvel Studios maiden effort has a real chance to surpass the $300 million barrier.
Meanwhile Warner Bros.' Speed Racer slipped a further 51%, earning just under $4 million and bringing its cumulative to just over $36 million after three weekends. Overall the domestic box office declined 16% from Memorial Day 2007, and the summer movie season is now running 9% behind last year's record total.