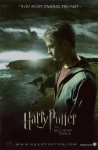 The fallout from last winter's writers' strike is becoming more and more apparent as Warner Bros. has pushed back the debut of Harry Potter and the Half-Blood Prince from November 21st, 2008 to July 17th, 2009. Typically when a film's release date is delayed there are problems such as a need for more time to create its effects or occasionally a desire to re-shoot certain key sequences, but this time it is Warner Bros. that has the problem—a lack of big summer tentpole films. Aside from Terminator: Salvation, which will be released on May 22nd, Warners had no blockbuster releases for the 2009 summer season until it moved the new Harry Potter film to mid July where it will face off against Universal's adaptation of the Sid and Marty Kroft Saturday morning kids' series, Land of the Lost, which stars Will Ferrell. The shift of The Half-Blood Prince will have no effect on the scheduling of the next Potter film, Harry Potter and the Deathly Hallows, which will be released in two parts, the first of which will debut in the fall of 2010 followed by the eighth and final Harry Potter film in the summer of 2011.
Two of the previous five Harry Potter films have opened during the summer, but the young magician's rabid fan base will flock to the theaters in any season, which has allowed Warners to schedule the films effectively during either the summer or the winter holiday season. Reacting to Warners move, Disney has moved the premiere of its 3-D animated feature Bolt up seven days so that it now will debut on November 21st.
The schedule shift has left Imax scrambling to fill the November slot that had been reserved for The Half-Blood Prince, and while the big-screen theater chain, which has become an important adjunct to the contemporary blockbuster's earning power, says it will accommodate the Harry Potter film next summer, that could present some difficulties since Imax also plans to run Transformers 2, which debuts just three weeks before the rescheduled Potter film on June 26th.