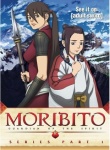 Starting on November 8th the Cartoon Network's Adult Swim is revising its schedule once again with a 5-hour anime block that begins at 1am (ET, PT). In a major format change, the Adult Swim Saturday night schedule will not involve repeating shows broadcast earlier the same night. The Saturday night Adult Swim schedule begins with two hours of its original English language programming, which is followed by ten anime series including Moribito: Guardian of the Spirit and Code Geass: Lelouch of the Rebellion R2, both of which had been banished to the "Milkman" hour of 5am (see "Adult Swim Cuts Back on Anime") and Shin Chan, which had been dropped off the schedule entirely.
The anime portion of the new Adult Swim schedule begins with Bleach at 1am followed by Moribito: Guardian of the Spirit (1:30am), Code Geass (2am), and Shin Chan (2:30am). Then comes a parade of the Adult Swim's greatest anime hits--most of which will start with their first episodes—Fooly Cooly (FLCL, 3am), Death Note (3:30am), Ghost in the Shell: Stand Alone Complex (4am), Cowboy Bebop (4:30am), Big O (5am), and Inuyasha (5:30am).
The new Adult Swim schedule represents an increase in the number of hours of anime programming from 6 hours to 8.5 hours per week and an even bigger expansion of the number of anime series, due largely to the ending of the practice of repeating the first 3 hours Adult Swim programming during the second late night 3 hour shift. Of course there is no telling how long Adult Swim will stick with this current schedule of anime programs.