Singer/actress Brie Larson has joined the cast of Edgar Wright's adaptation of Bryan Lee O'Malley's Scott Pilgrim vs. the World along with superhero movie refugees Brandon Routh (Superman Returns) and Chris Evans (Fantastic Four). Larson will portray Pilgrim's ex-girlfriend Envy Adams, while Evans will play Ramona Flowers' evil ex-Boyfriend #2, Lucas Lee, a pro-skateboarder turned movie star, while Routh will be evil ex-Boyfriend #3, Todd Ingram, a vegan rock-and-roller with psychic powers.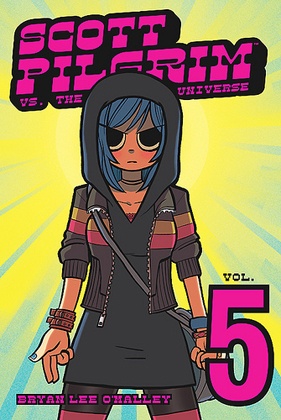 Michael Cera will play the eponymous hero (see "
Scott Pilgrim Casting
"), who has to defeat the seven evil ex-boyfriends of the woman of his dreams, Ramona Flowers (Mary Elizabeth Winstead). Oni Press will publish the fifth manga-influenced
Scott Pilgrim
graphic novel,
Scott Pilgrim vs. the Universe
, next month. According to
The Hollywood Reporter
other cast members include Satya Bhabha, Johnny Simmons, Mae Whitman, Ellen Wong and Anna Kendrick.
Universal's production of Scott Pilgrim vs. the World is expected to start filming soon in Toronto, where native son O'Malley has set his fantasy-filled romantic comedy saga.