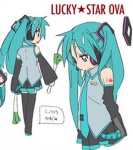 Bandai Entertainment has announced that it has acquired the rights to Lucky Star OVA, a 42-minute addendum to the 24-episode Lucky Star TV anime series. Both the Lucky Star TV anime and the Lucky Star OVA were produced by Kyoto Animation (The Melancholy of Haruhi Suzumiya, Kanon). The announcement of the acquisition of the Lucky Star OVA by Bandai was expected because Bandai has distributed the Lucky Star TV anime here (see "Bandai Snags Lucky Star").
The Lucky Star anime productions are based on Kagami Yoshimizu's four-panel (yonkoma) manga strip about a lazy, anime and video game obsessed schoolgirl that appears in Kadokawa Shoten's Comptiq magazine.
Bandai has not announced a street date or pricing details for the Lucky Star OVA. Bandai plans to release the sixth and final volume of the Lucky Star TV anime on March 17th. Bandai has cancelled the Limited Edition of Lucky Star Vol.6, an indication that the series has not met with the kind of sales success enjoyed by The Melancholy of Haruhi Suzumiya.