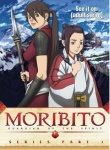 The Moribito: Guardian of the Spirit anime series is returning to the Cartoon Network's Adult Swim starting on June 13th at 1:30am (ET, PT). Produced by Production I.G., Moribito is distributed in the U.S. by Media Blasters. The Cartoon Network aired the first ten episodes of the 26-episode series on Adult Swim, but stopped after episode 10 (see "Moribito Off Adult Swim"). According to nebs66 Website, Adult Swim is going to air the entire 26-episode series this time.
The return of Moribito appears to be bad luck for the Blood+ anime series, which was scheduled for a second run on Adult Swim during the timeslot now given over to Moribito.
Adult Swim, which has been airing two back-to-back new episodes of the Bleach anime series, will, after July 4th, switch over to airing just one new episode per week, though it will continue to air Bleach episodes (a repeat followed by a new show) back-to-back for a full hour.