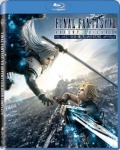 In one of the best performances by an anime release in the Blu-ray format, the BD edition Sony's Final Fantasy VII: Advent Children came in a very close second to Paramount's Defiance on the latest Nielsen VideoScan Blu-ray charts. First released in 2006, Final Fantasy VII: Advent Children sold 1.4 million units in the U.S. and Europe (see "1.4 Million Final Fantasy Discs"), and was far and away the bestselling anime DVD of the year. Sony released a Collector's Edition of Final Fantasy VII: Advent Children in February of 2007 and it helped the film dominate the anime sales charts for a second year in a row (see "Sony Double Dips With FF VII: Advent Children"). The Blu-ray edition includes 30 minutes of additional footage as well as new songs by Gerard Way of My Chemical Romance and Kyosuke Himuro (see "Final Fantasy VII: Advent Children Complete").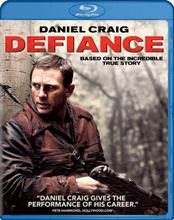 Paramount's Defiance, which sold 14% more Blu-ray discs than FF VII: Advent Children, stars Daniel Craig, Liev Schreiber, and Jamie Bell as the Bielski brothers, Polish Jews who fought very effectively as partisans against the Nazis during Second World War. Hiding out in the forests of eastern Poland, the Bielskis recruited hundreds of Jewish refugees from Nazi tyranny and waged a potent guerilla campaign on the Eastern Front. Edward Zwick, who memorialized the seldom-celebrated exploits of black soldiers in the Civil War (Glory), has performed a similar service for the Jewish partisans, whose resistance to the Nazis encompassed more than just the Warsaw Ghetto uprising. Defiance not only looks great on Blu-ray, the disc contains a number of superb extras including documentary photos and interviews with children of the Bielski partisans.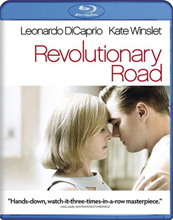 The same day that it released
Defiance
,
Paramount
also put out the Blu-ray version of Sam Mendes'
Revolutionary Road
.
The film, which is based on the influential novel of suburban striving by Richard Yates, reunites the lovers from Titanic, Kate Winslet and Leonardo DiCaprio, except this time their love is sorely tested by their struggles to maintain their individuality is the soul-crushing suburbs of the late 1950s.
Revolutionary Road
is a subtler and scarier dissection of suburban life than Mendes'
American Beauty
, but it is easy to see why the film, in spite of its brilliant performances and impeccable technique, landed at #7 on the Blu-ray charts.
It is depressing to see the archetypal passionate lovers of
Titanic
squirm in their suburban setting as their dreams are gradually destroyed by the demands of ordinary life, as their illusions of superiority are ground down by their failures to break the bonds of a mundane life that swallows them as effectively as the pods in Don Siegel's 1957
Invasion of the Bodysnatchers
subsumed the bodies of that film's sleeping suburbanites.
Still, this is a superb film for mature filmgoers who enjoy challenging cinema.
The BD includes an excellent 30-minute "making-off" documentary and five deleted scenes, several of which most viewers will wish were included in this exceptional film.