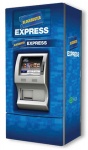 In another sign of the rapidly changing retail landscape for DVDs, Blockbuster revealed in an SEC filing this week that it is closing as many as 960 of its stores in 2009 and 2010, twice the number it had previously expected. At the same time, the company is rapidly expanding its DVD kiosks.
The store closings will reduce the company's retail locations significantly; there are around 4,350 Blockbuster stores in the U.S. now.
The kiosk expansion is happening at blinding speed, with the company expecting to have 2,500 in place by the end of 2009 and 10,000 in place by the middle of next year, up from 500 now. The kiosks, built by NCR and licensed by Blockbuster, will offer 4,000 titles (see "NCR Adds 11,000 Kiosks").
Kiosks are expected to account for 30% of the U.S. rental market in 2010, up from 19% during the first half of 2009.
Blockbuster has been financially stressed, but was able to restructure its debt to avoid immediate problems (see "Blockbuster Restructures Some Debt").