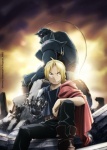 The Cartoon Network's Adult Swim announced on air via title cards that it had lost the rights to show the anime series Death Note and Blood+. The entire Death Note anime series was shown on Adult Swim at least three times, while Blood+ was shown just once in its entirety (50 episodes).
The Anime News Network is reporting that Adult Swim followed the news of the expiration of the rights to Death Note and Blood+ with a cryptic announcement indicating that on a recent visit to Tokyo "we think we bought three series (maybe)."
It should be interesting to see which new series that Adult Swim, which has been aggressive in producing its own animated series and has even added live action shows to its lineup, has picked up. Full Metal Alchemist: Brotherhood, the sequel to the FMA series that had a very successful run on Adult Swim, is a likely candidate, as is Inuyasha: The Final Conflict, the finale to the long-running Inuyasha anime that has a rich history with the Cartoon Network that goes way back to the early days of Adult Swim.
Funimation, which handled the original Full Metal Alchemist anime, has acquired U.S. rights to FMA: Brotherhood (see "Funimation Nabs Full Metal Alchemist: Brotherhood"). Viz Media distributes the Inuyasha manga and anime series as well as the Full Metal Alchemist manga in North America.