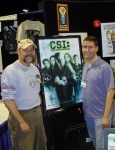 On the eve of the San Diego Comic-Con International, both Variety and USA Today reported on the upcoming new comic book based on the hit drama series, CSI: Crime Scene Investigation. IDW, which recently announced plans to publish a Mage Knight comic (that will come packaged with a special figure), announced that it was planning a five-issue mini-series based on the hit CBS crime show, that was the highest rated dramatic series on American television last year (averaging over 20 million viewers per week). Max Allan Collins, who wrote the Dick Tracy comic strip for years as well as the graphic novel Road To Perdition, which was the basis for the hit film starring Tom Hanks, will pen the new CSI comic book. Gabriel Rodriquez will handle the interior artwork, and Ashley Wood will produce the covers.
As luck would have it, this year's San Diego show includes a tribute to Charles Biro, who invented the 'crime' comic some 60 years ago with the hugely popular Crime Doesn't Pay series. Thanks to the efforts of David Lapham (Stray Bullets) and others the crime comic has made something of a come back in recent years. Still it should be interesting to see if the CSI comic series can tap into some of the enormous popularity that the forensically-adept CSI TV series has attained, and can begin to approach the enormous circulation that Biro's books enjoyed in the 1940s. Still to be seen is whether the trend to more reality-based comics as typified by Marvel's Call To Duty books and the CSI comic from IDW can make an impact on today's market.
The first 32-page issue will hit comic shops in December, and will retail for $3.99.