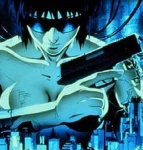 Masamune Shirow's Ghost in the Shell has been a major success in the U.S. market. Both the video from Manga Entertainment and the graphic novel published by Dark Horse have become huge sellers. Shirow has continued the series with Ghost In the Shell 2: Man-Machine Interface, which has recently been collected and published in a hardcover edition in Japan. Now according to Studio Proteus, the group that packages manga titles for Dark Horse, the schedule for the U.S. release of Ghost in the Shell 2 is starting to take shape.
Since the comic material for Ghost in the Shell 2 exists as digital files, Shirow himself is going to supervise the foreign editions, a process that includes flipping the artwork (so it reads left to right), adapting the word balloons for horizontally written dialogue, and reversing the English words and signs from the original Japanese version which are reversed when the artwork is flipped. In addition, Ghost in the Shell 2 includes a sexual scene that has been deemed too adult for mass market consumption outside of Japan. Shirow has already completed a toned-down version of the scene, which will appear in the regular edition of the Dark Horse edition of Ghost in the Shell 2. In the past, fans who wanted to get the uncensored version of several Dark Horse manga titles had to buy the Japanese language version, but in this case, Dark Horse will solicit a special limited adult edition of Ghost in the Shell 2 in Diamond's Adult Supplement (the regular version will be solicited in the Dark Horse section of Previews). The adult version will be even more graphic than the Japanese version. Currently Shirow is preparing a paperback edition for the Japanese market. As soon as he finishes that, he should begin on the foreign editions, which could mean that the Dark Horse editions might be ready by the end of this year.
As for the anime version of Ghost in the Shell 2, it appears that fans will have to wait a bit longer, but the good news is that Mamoru Oshii, the director of the first Ghost in the Shell film, has signed on to direct Ghost in the Shell 2.