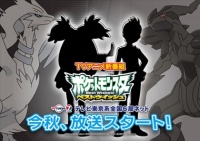 The Pokemon anime series, which is currently in its 13th season, will start its fourth series in the fall in Japan. Pokemon: Best Wishes! ties into the Pokemon: Black and White video games that are being released in Japan this fall. The Best Wishes! series will take place in a land called Issu where a new journey and a new series of adventures will unfold.
According to The Anime News Network, the new series will air in Japan once the current final season of the current series Diamond & Pearl ends. The original Pokemon series, which ran for five seasons and includes 274 episodes, is currently airing on the Cartoon Network's Boomerang. The second Pokemon series, Advanced Generation encompasses four seasons and 191 episodes. The current series, Diamond & Pearl is on its fourth season and so far 181 episodes have been broadcast. Diamond & Pearl episodes are currently airing on the Cartoon Network.
The first Pokemon anime debuted in 1997 and created quite a furor when some kids had seizures while watching the popular series. The property has endured and remains a major force thanks to the continuing popularity of not just the anime, but also the Pokemon video games and the Pokemon TCG with the property's young demographic.