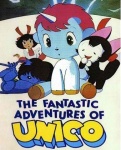 Discotek Media has announced on its Facebook page that it will release both Unico movies, Fantastic Adventures of Unico and Unico in the Island of Magic, in 2012. The two Unico features were aired repeatedly on the Disney Channel in the 80s and released in the U.S. on VHS, which led to a significant audience at the time and cult status now.
The Fantastic Adventures of Unico was directed by Osamu Tezuka. Both features, as well as a third feature that has never been released in America, are from Tezuka Productions.
New company New Galaxy Anime announced that it would release all three Unico features in 2007 (see "
'Unico' to Return to U.S."),
but they were never released. At the time, New Galaxy announced that all three features had been remastered by Tezuka Productions. No word from Discotek on the third feature.