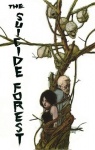 Hideo Nakata, the director whose Ringu sparked a new wave of horror films in Japan, has signed on to helm an adaptation of The Suicide Forest, the first in a series of four graphic novels published by IDW Publishing and written by El Torres with artwork by Gabriel Hernandez. Nakata directed the American remake of The Ring 2 in 2005 as well as one of the more interesting Death Note movies, Death Note: L, Change the World in 2007.
Deadline
reports that Nakata will helm
The Suicide Forest
, which debuted from IDW in 2010 and is set in Aokigahara, a forest outside of Tokyo that is considered the most famous suicide spot in the world. After the girlfriend of an American ex-pat kills herself in the forest, the American is haunted by her vengeful spirit and must seek the aid of an Aokigahara forest ranger for help in escaping the curse.