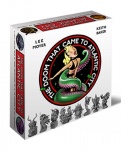 Cryptozoic Entertainment will publish the board game The Doom That Came to Atlantic City in 2014, the company announced today. The news comes just a week after the announcement by the previous publisher that the Kickstarter-backed game had been cancelled (see "Kickstarter 'Doom'"), much to the dismay of both Kickstarter backers and game creators Keith Baker and Lee Moyer.

"We were really shocked to hear the news about this last week" said Cryptozoic COO Scott Gaeta. "The game looked fantastic and I thought that we might be able to help, so I contacted Keith right away. Keith and Lee told me that taking care of the Kickstarter backers was the most important thing to them and I couldn't agree more. That's why we are going to be fulfilling all of the Kickstarter game orders ourselves."

"Our first priority is getting the game produced and in the hands of the Kickstarter backers," Gaeta continued. "We are already working with the factory and should have a date we can share in a few weeks."

"For Lee and I, the worst part of this is that people who put their faith in our game have been hurt by it," said Baker. "After the Kickstarter was cancelled, many people came forward with ideas to keep the game alive. But we didn't want to pursue an option that would save Doom unless it would also get the game into the hands of the people who first supported it." Moyer and Baker planned to make a print-and-play version of the game available to backers as a consolation. In fact, Baker announced in his blog that the print-and-play version should be reaching backers via email today.

Moyer and Baker have been working on the game for over a decade. They were joined in 2010 by sculptor Paul Komoda, who provided the artistic contributions for the miniatures. They launched a successful Kickstarter campaign in May/June 2012 that netted $122,874 from more than 1,200 backers. Then, a year later on July 23rd, came the sudden, surprise announcement on the Kickstarter update page from project publisher Erik Chevalier of the project's cancellation. What followed was a flurry of Internet postings, as angry backers and the shocked creators responded to the news. Then Cryptozoic Entertainment swooped in to save the day.

Cryptozoic plans to make the game available to the hobby market in 2014, and will be demoing it at Gen Con and the Alliance Open House. For details on the board game itself, see "Crypto's 'Doom'."