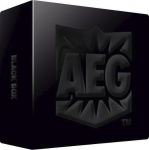 Alderac Entertainment has announced a new highly limited collectible game package, the Black Friday Black Box, which contains four surprise games, releasing on "Black Friday," November 28.

While specific game contents will not be revealed until release, Alderac has offered hints and characterized contents of what is planned to be an annual release. The four games included in the 26.5 cm x 26.5 cm x 7cm package have a combined value of $110.00 retail for MSRP $49.99. At least one of the games has not seen previous release. The others will be special edition or new art versions of popular titles or stand-alone expansions released this year or last year. Alderac characterized these as similar to the special Love Letter--Wedding Edition, which was never released to stores; or the Legend of the Five Rings editions of 7th Hero, Guildhall and Lost Legacy which were created exclusively for the L5R Experience box released at Gen Con 2014.

An Alderac spokesperson characterized the limited edition print run and expected allocation as similar to what was produced for the Doomtown: Reloaded Premium Base Set. Initial literature indicated the Black Friday Black Box was a "one day only" product, but Alderac clarified that to mean it will only be printed once and available beginning on Black Friday. Stores may sell it until it is gone.

Alderac plans to make this collectible box an annual offering, with content changing each year. The offerings may be more specialized or unique versions of popular out-of-print titles. There may be multiple versions of the box produced for next year, and the print run may be expanded, but the content will always be highly specialized and exclusive to that year's box. Alderac will be soliciting feedback after the release from distributors and fans to see what they'd like to see included or changed in future Black Box editions.