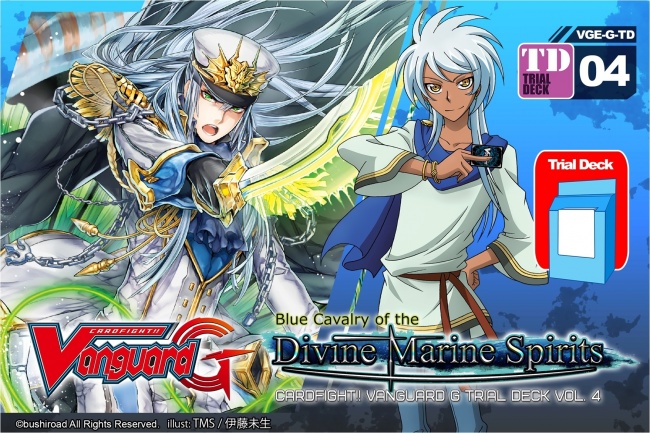 Bushiroad has announced details on two
Cardfight!! Vanguard G
TCG releases, arriving on April 17. The
CVG-Trial Deck 4: Blue Cavalry of the Divine Marine Spirits
will introduce new character Jamie Alcaraz's deck, which harnesses the strength of the Aqua Force units, and makes use of the new "Stride" mechanic. The 52-card deck includes 19 types of cards (all trial deck exclusives, inclusive of 4 holo cards).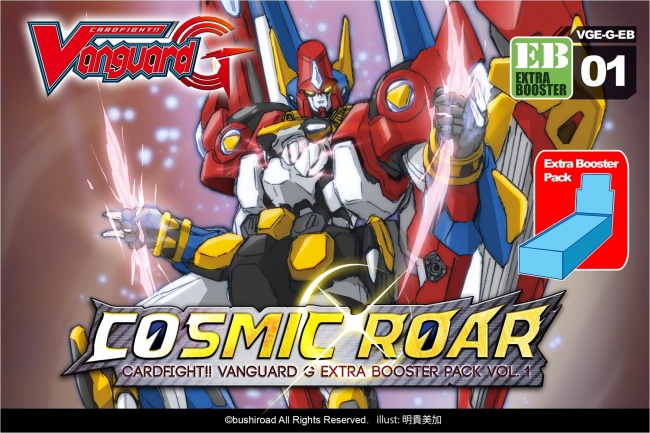 Cardfight!! Vanguard G: Extra Booster Pack 1: Cosmic Roar
features units from the Dimension Police clan. The Dimensional Robo units will return with a new appearance and more powerful skills. The cards will also include new Enigman, Metalborg, and Zeal units.
The set contains 35 cards (RRR: 3 / RR: 5 / R: 8 / C: 19) which include SP: 4 (Parallel). At least one card in every pack will definitely be an R or above. Displays contain 15 packs, each containing five random cards. There are 24 displays per carton.
A Sneak Preview for the
CFV G: Extra Booster Pack 1
will be held the weekend of April 10-12. Each Sneak Preview Kit will contain 48 booster packs (6 packs per player), 8 +1 exclusive "Dimension Police" promotional cards and 2 premium "Dimension Police" rubber playmats.